Your World ADC London Full Event Guide
As Europe's longest standing and most comprehensive antibody-drug conjugate conference, World ADC London will continue to be your opportunity to learn the latest ADC intelligence and foster connections with thought leaders to maximize the therapeutic index of your ADC candidate.
Take a look at the complete agenda and 60+ experts on the speaker faculty, including details of the new 4th Stream, 9 deep dive workshops and inaugural CMC Day bringing you a world class learning experience.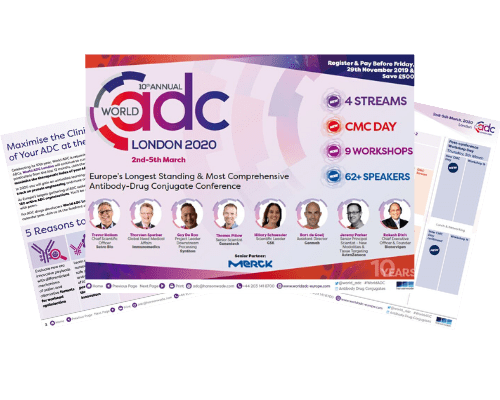 This is your guide to what's new for 2020, including:
Companies presenting with Phase III ADCs in the Clinic
Clinical content revealing results and data
Highlights you can look forward to such as the expanded Poster Session opportunity
We hope you can join us to celebrate 10 years of ADC insights and connections!